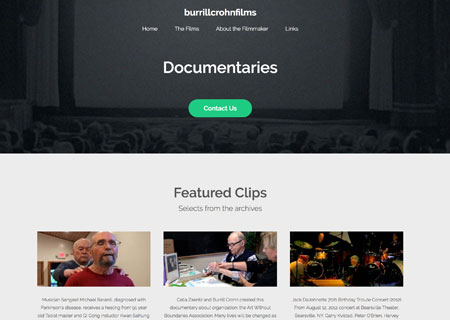 Burrill Crohn Films Burrill has been making documentaries, mostly about music, for over 30 years. He wrote, directed and produced the seven-part WOMEN IN JAZZ series, which aired on A&E cable network for many years. His five part HISTORY OF JAZZ series, narrated by Wytnon Marsalis, Branford Marsalis and Chick Corea, was aired on BRAVO Cable Network and PBS. Other music documentaries include The Spirit Travels, narrated by Linda Rondstadt, Joe Williams: A Portrait in Song, shot in concert with the Count Basie orchestra just a year before this legendary singer's death, and Speak to me of Love, Speak to me of Truth, a concert film of the Billy Harper sextet and 60 voices at Manhattan's St. Peter's Church, Playing With Parkinson's about virtuouso jazz guitarist Sangeeta Michael Berardi who, despite his diagnosis, continues to find ways to play music and live life fully with zero self-pity and plenty of joy.
Other musicians Burrill has worked with include David "Fathead" Newman, John Lindberg and Marilyn Crispell. He was a consultant on two Academy Award nominated documentaries, A Great Day in Harlem and Genghis Blues. His work has shown at many film festivals, The Library of Congress and The Museum of Broadcasting. For his HISTORY OF JAZZ series Burrill won a Cable ACE Award (now an EMMY).
---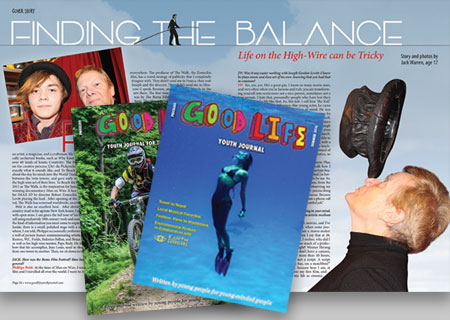 GoodLife Youth Journal was founded in response to an urgent need. In harsh economic times this youth generation is faced with unprecedented challenges. The Journal allows 10- to 20-year-olds to learn responsibility, earn money and receive recognition for their unique abilities in art, music and the written word. Young people with potential can oftentimes turn to negative pursuits, alcohol or drugs out of boredom, frustration or a feeling of worthlessness.

The GoodLife Youth Journal provides kids purpose, experience and a better way to fulfill their lives and influence others in a positive way.
---
Pexco LLC From Extrusion to Custom Plastics. In 1970 fiber extruder American Filtrona (today Essentra plc) diversified into plastics manufacturing by acquiring Southern Plastics of Columbia, South Carolina. As the company grew, it came to serve a broad variety of markets and advance its plastic manufacturing processes. The name was changed in 2009 to Pexco LLC.
Today, Pexco is based north of Atlanta, Georgia with several manufacturing plants across the United States and Mexico, offering a full range of plastics design, engineering and fabrication services. Pexco is a North American leader in the design and fabrication of specialty plastic products. It provides standard and custom parts and finished assemblies to manufacturers and end-users across medical, defense, industrial, and commercial market applications.